Home to some of the most beautiful exclusive resorts in Costa Rica, Peninsula Papagayo is the hidden jewel of Central America. Nestled on 2,300 acres of emerald greenery poised over the Pacific Ocean from the curvaceous northern coast of Costa Rica, Peninsula Papagayo is the coastal paradise you've been dreaming of. Located in the northwest province of Guanacaste and jutting into the Golfo de Papagayo, this natural sanctuary and wonderland were formed by volcanic activity and centuries of weather. This sophisticated yet gorgeously untamed destination has eight miles of majestic bluffsides, 11 miles of coastline, 21 serene beaches, and one of the few tropical and diverse dry forests left on the planet. There is no denying that Peninsula Papagayo is the perfect vacation destination— this private paradise features several world-famous, eco-friendly luxury resorts and properties with sweeping coastal views, legendary golf courses, an endless list of land and water activities, rainforest expeditions, and ziplining excursions. From Indigenous wonders to cultural richness, blue waters to sandy beaches, this enchanting enclave is perfect for those looking for both adventure and relaxation. Here are just a handful of the many reasons to visit the amazing and up-and-coming Papagayo Peninsula on your next vacation.
It's Extravagant… and Eco-Friendly
Peninsula Papagayo is a community devoted to sustainability and the protection of its primitive beauty. Per government mandates, 70% of the land on the peninsula must remain natural to avoid overdevelopment and preserve over 600 square miles of protected wilderness, visually dramatic landscape, and beaches that are home to beautiful sea turtles. With a UNESCO World Heritage Site at its doorstep as a steward, Peninsula Papagayo is home to one of the world's most important and only tropical dry forests. While the Papagayo Tourist Project and Costa Rican government monitor the expansion of the native landscape, they welcome travelers from around the world with open arms and are eager to share the beauty of the peninsula's incredible biodiversity and eco-rich land.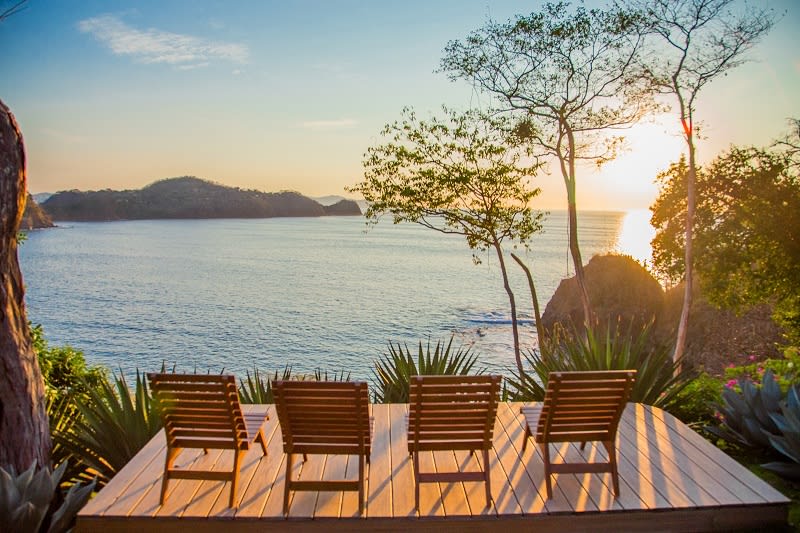 Credit: Wilder Collection
Peninsula Papagayo Resorts: Luxury Accommodations Brimming with Life
This small peninsula does luxury big. Peninsula Papagayo is home to several world-class resorts, including the Andaz Peninsula Papagayo Resort, Exclusive Resorts Costa Rica, and the Four Seasons Resort Costa Rica—home to the 18-hole, par 72 championship Arnold Palmer Signature Golf Course. The Four Seasons Resort has received impressive awards from Travel + Leisure, making its list of the "500 World's Best Hotels" and landing 25th on the "World's Number One Family Beach Resorts" list. Opulent and private suites, villas, and estates are perched on a rolling hillside overlooking the Pacific Ocean with farm-and-sea-to-table dining, four swimming pools, eight miles of nature trails, a gourmet grocery store, and blissful spa treatments right on the premises. Andaz Costa Rica Resort at Peninsula Papagayo features three beaches, an immaculate golf course, extensive activities and programs, a gorgeous treehouse-like spa, and distinctive dining experiences. Their top-notch rooms are complete with riverstone rain showers, floor-to-ceiling windows, and folding glass doors that allow guests to experience the magic of the tropical forest right in their rooms. Looking for more space and privacy? A number of large estate luxury villas are available to rent—such as Wild Indigo and La Escapa—which come with access to the Prieta Beach Club, kids club, spa, the golf course, all of the Peninsula Papagayo's restaurants, and countless more personalized amenities. No matter where you choose to stay, rent, or buy, your visit will be so luxurious you'll never want to leave.
The Marvelous, One and Only Marina
Marina Papagayo is currently the biggest and most advanced marina in Costa Rica, making it one of the peninsula's main attractions. Built with an environmentally-conscious blueprint in mind, this exclusively charming marina is nestled safely below the hurricane line and is sheltered from the Northern Papagayo winds—making it a naturally protected haven and fitting year-round destination. The peaceful location is a strategic harbor and pleasure stop for boaters and fishers, while for vacationers it's a yachting paradise. Sail the turquoise waters and shores on the southwest side of the peninsula aboard a superyacht, luxury cruiser, or sportfishing boat. Just a hop, skip, and jump away from all of the accommodations on Peninsula, this coastal haven is worth the visit. After a day of boating, grab some wine or any necessities at Ship's Store and the gourmet market, or share casual conversation over cocktails and light fare at the friendly and welcoming Dive Bar. Whether you're strolling the street or lounging in a chair enjoying a seaside dinner, you'll be living in global sophistication as you watch boats cruise along at sunset.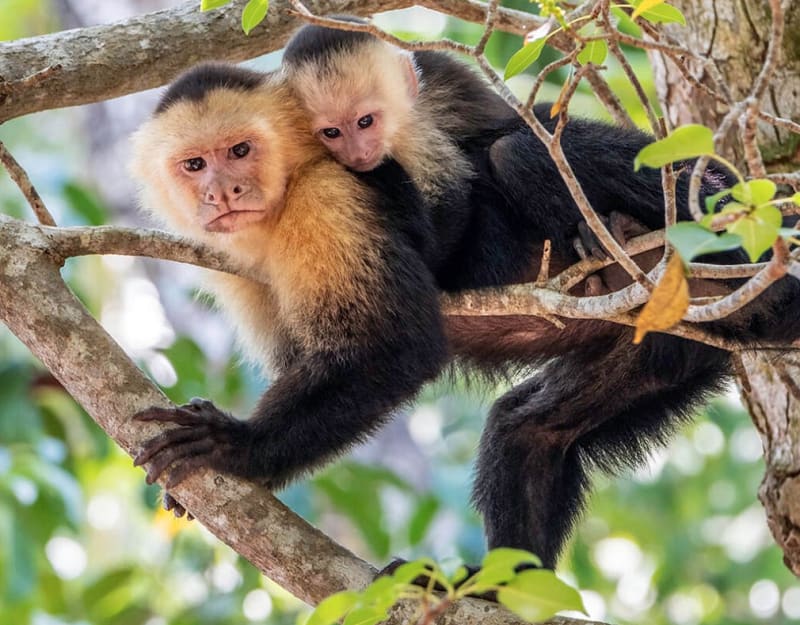 Credit: Peninsula Papagayo
Experience Wildlife in its Natural Habitat
With 12 major life zones and 500,000 species, Peninsula Papagayo is home to all kinds of lovable and extraordinary wildlife. If you don't spot them in the wild, head over to Diamante Eco Adventure Park—a certified animal sanctuary where visitors can interact with and have a full introduction to all of the native creatures who make their home in the Guanacaste region. You'll be able to see many of the peninsula's protected inhabitants napping in the trees and walking about, from toucans and sloths (Lucy is the park's unofficial furry mascot) to pumas and jaguars. There is also a butterfly sanctuary, which is extremely interactive and fun for families. While visiting local animals, you can experience the famed Superman zipline—the longest in Costa Rica—which will sail you through the sky over sweeping ocean and towering blufftop views face-down Superman-style. Don't feel like leaving Peninsula Papagayo? You are likely to spot parrots, macaws, white-faced capuchin monkeys, and other critters from your terrace, roaming the streets or even emerging poolside at resorts and hotels. With 7,000 plant species, 900 vertebrate species, 500 bird species, and 8,000 species of butterflies and moths, there's never a boring day in and around Peninsula Papagayo.
Outdoor Excursions and Adventures
Peninsula Papagayo is truly nature without borders. Not only is this coastal paradise incredibly beautiful, but it's also one of the most sought-after destinations for adventure. There are endless extraordinary experiences for explorers and nature lovers, from a day of ziplining and hiking volcanoes to snorkeling and surfing. Peninsula Papagayo is the closest and most luxurious resort near Witch's Rock—a world premier surfing destination just a quick boat ride to the north. Not a surfer? By water, you can spend an afternoon deep sea fishing, boat cruising, jet skiing, scuba diving, stand-up paddleboarding, white-water rafting, windsurfing, sea kayaking, touring protected mangroves by canoe, or diving in the Eastern Tropical Pacific Seascape. After drying off, birdwatch or explore miles of trails at Palo Verde National Park. Hike through luscious meadows and forests to spot the hot springs of Rincon de la Vieja National Park. Take a solo, couple, or family adventure through other parks and reserves, including Santa Rosa National Park, Guanacaste National Park, Lomas de Barbudal Biological Reserve, and Tenorio Volcano National Park. If you prefer guided adventure, the Papagayo Explorers program offers adventure through all terrains. By land, you can go horseback riding on the water or gear up for epic mountain biking through three microclimates in a single morning. Whichever path you decide to take, Peninsula Papagayo is a playground waiting to launch you into boundless adventures and thrills.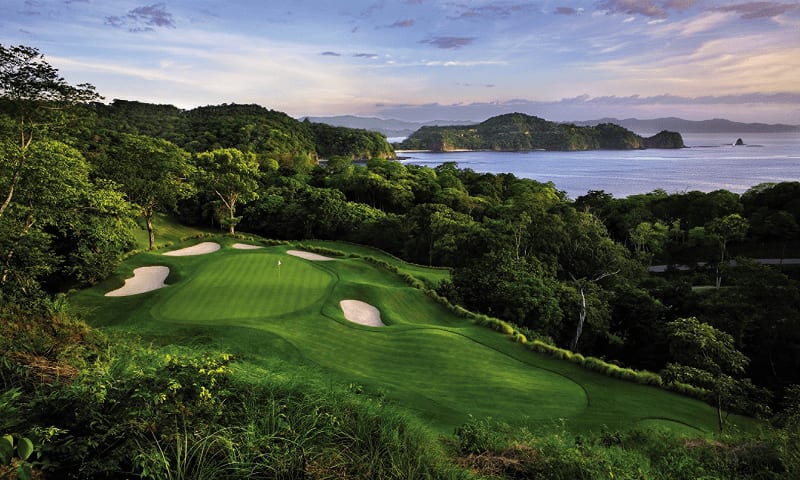 Credit: 19th Hole Magazine
A Legendary, Stunning Golf Course
By now, you know that Peninsula Papagayo is one of the most extraordinary landscapes and biological corridors on the planet, but the peninsula is wildly famous for one activity: golf. The Arnold Palmer Signature Ocean Course at the Four Seasons Hotel is a par-72 golf course that was voted "Best 100 Courses Outside the United States" by Golf Digest. The private green winds through changing elevations of lush forests, sea cliffs, white sand beaches, and valleys, boasting ocean views at 14 of the 18 holes. The renovated Clubhouse at the course is perched atop one of the peninsula's highest plateaus and includes a pro shop, locker rooms, a private members' lounge, and a Latin steakhouse.
The Beaches
Surrounded by the Pacific Ocean on three sides, there is no shortage of secluded beaches on Peninsula Papagayo. During your time on your tropical retreat, you'll find a beach that's just right for every person and mood. The beaches here have a private feel: gated, secluded, and uncrowded. The sunshine, safe and serene atmosphere, and year-round warm waters of the Golfo de Papagayo provide perfect relaxation. Playa Prieta, Playa Virador, and Playa Nacascoloo are the three main beaches on Peninsula Papagayo. Playa Prieta is home to a beach club including three pools, two restaurants, and a gym only accessible if you are a guest on Peninsular. Playa Prieta is famous for its calm waves perfect for swimmers and new surfers. Don't miss the epic sunsets! Ever dream of finding yourself on a deserted beach off a tropical forest? Playa Nacascolo, voted one of 2014's most beautiful beaches by Travel + Leisure and may be, the biggest hidden gem of them all. The beaches check all the right boxes: water quality, sand color and texture, and views. There is a limited presence of mosquitoes and other pests as well as gorgeous palm trees rising above the horizon, providing shade for those who don't fancy the sun so much. Don't forget to catch a sunset!
The Culture
Costa Rica, particularly Peninsula Papagayo, is known for welcoming people eager to share their land and culture. Immerse yourself in the country's greatest traditions, food, and folklore, such as learning to lasso, seeing Indigenous handicrafts, and studying the techniques of pre-Columbian pottery. You can nourish your body and quench your thirst with delicious, regionally-inspired cuisine and beverages at twelve signature restaurants across the peninsula. From family-style meals to locally and seasonally-sourced plates, there is something for every palette. Peninsula Papagayo is ready to welcome you with open arms.
Looking for More Activities, Outings, and Vacations?
If you're looking for the ultimate coastal retreat or want to plan a trip celebrating a special occasion in Peninsula Papagayo Costa Rica, explore Our Collection of luxury vacation rentals and contact us today. We would love to help you find the perfect villa for your next vacation in paradise.