As the pandemic finally starts relinquishing its hold on all of us, more and more people are becoming excited by the possibility of summer vacations. Vaccines are becoming readily available, and all of us have been cooped up inside amid the lockdown. Why shouldn't we start to plan for a dream vacation somewhere lush and gorgeous like Costa Rica's Papagayo Peninsula?

Not only is the peninsula immersed in natural wilderness and situated in a beautiful locale, but it's remote and exclusive enough that you can stay safe and socially distanced from other people for as long as you like.

Despite easing restrictions, it's important to remain safe and adhere to CDC guidelines while vacationing. Social distancing is pivotal to ensuring you don't become infected or spread the virus to anyone else. That's why the Wilder Collection is proud to offer their guests a stay in their cozy, exclusive Wild Indigo villa. Here you can stay far away from other guests while still enjoying a sublime vacation.

To help you stay as safe as possible, we've provided a few tips to help you get the most out of your socially distanced Costa Rican getaway. For starters, make sure that you are thoroughly tested and vetted before traveling anywhere. Research the travel guidelines and recommendations for your country and Costa Rica before you book your trip, and then plan on quarantining for a few weeks before leaving. If you plan to get vaccinated, do so as far in advance of your departure date as possible, as the vaccine can take a few weeks to start working. It's essential to stay updated on the latest travel restrictions and guidelines to ensure you don't get held up upon departure or arrival.

As we mentioned, the best way to stay safe while on vacation is to keep yourself distanced from other guests. That's easy to do at the Peninsula Papagayo because we offer a selection of elegant, exclusive villas separate from each other. The Wild Indigo villa is especially popular because of its exclusivity and privacy—it even features its own private steps that take you straight from the villa to the beach.

Our staff focuses on keeping our guests safe by minimizing any and all direct contact by implementing virtual check-ins, contact-free transactions, limited public dining, and more. As always, if you do need to venture closer to other people, be sure you're wearing a face mask or protective face shield. Luckily, Costa Rica is such a serene vacation spot, and you'll likely be spending the majority of your time outdoors on the sun-soaked beaches and exploring the tropical island terrain.

Private vacation rentals are also safer than a traditional hotel, as you and your guests will be the only ones occupying the rental. Per CDC guidelines, it's best to stay with members of your own household rather than rubbing elbows with strangers or extended family members you haven't seen in a while.

Even though it's a private spot, you'll still be treated to resort-quality amenities such as our Prieta Beach Club and Spa, world-class golfing on an Arnold Palmer Signature Golf Course, marina access, and state-of-the-art tennis facilities. Our professional, dedicated chefs are happy to deliver your food straight to your villa!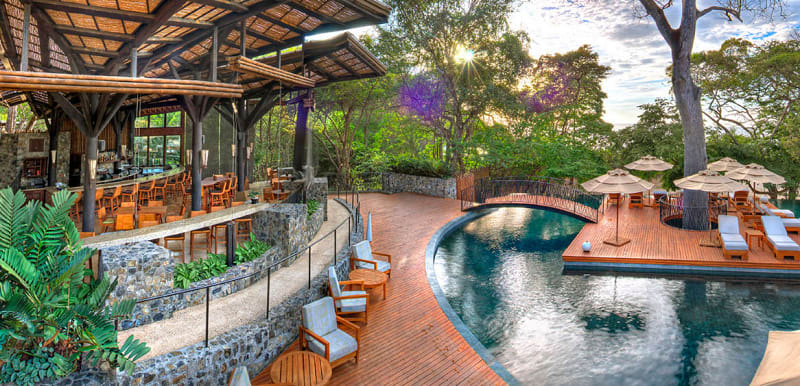 Why Vacation in Costa Rica?
Sprawling across 1,400 acres with 11 miles of coastline and eight miles of bluff edges, the Peninsula Papagayo is truly a mesmerizing paradise that will make you feel as if you've been transported to another world entirely.

Following a $100 million renovation plan, the peninsula has evolved into a transformative luxury experience that any fan of luxe accommodations would be happy to visit. Here you'll find yourself immersed in a private, serene, and ethereal location that whisk away your worries and stress as if they never existed at all. Not only that, but the entire area is a carefully constructed eco-friendly landscape, cultivated to elevate and amplify Costa Rica's wondrous natural splendors.

Regardless of what you're interested in, you'll surely find something on the peninsula to occupy your time. Whether you want to walk along the beach and sink your toes into the powdery white sand or take a short golf cart ride to the Arnold Palmer signature golf course to play on the manicured putting green, you'll love the area and all it offers. Nature lovers can't get enough of our extensive trail system, which boasts more than 13 miles of guided nature trails through Costa Rica's beautiful, untouched flora and fauna. Enjoy bird watching and trying to identify the broad range of vibrant, colorful flowers blooming along the pathways.

Surrounded by sparkling, crystal-clear waters, the peninsula offers a bevy of water sports and expeditions suited to this magnificent ocean paradise. Explore some of Central America's oldest rock formations or go surfing off the gentle swells at Witch's Rock. You can even partake in scuba diving and snorkeling at Monkey Head or take a leisurely paddle boarding or kayaking trip through the waters. If you prefer getting in touch with the wildlife on land, there are hundreds of acres of biologically diverse ecosystem to explore. Ride a bike through three distinct microclimates on the cusp of sunrise or sunset, or plan a visit to one of the nearby national parks. In the marina, you can charter a luxury superyacht or one of Costa Rica's popular fishing "pangas."

And, of course, it wouldn't be a trip to Costa Rica if you didn't get to enjoy the country's many cultural delights. Immerse yourself in the culture, cuisine, and traditions by making pre-Columbian pottery, learning the language of pura vida, and giving yourself up to the moment. By the time you leave, you'll feel completely refreshed.

The peninsula is conveniently located just 30 minutes away from the Liberia International Airport. From the moment you touch down, you'll be surrounded by scenic views on the way to your remote village. Skip the traffic and ride to paradise as you luxuriate in being a guest at one of the world's most amazing locations.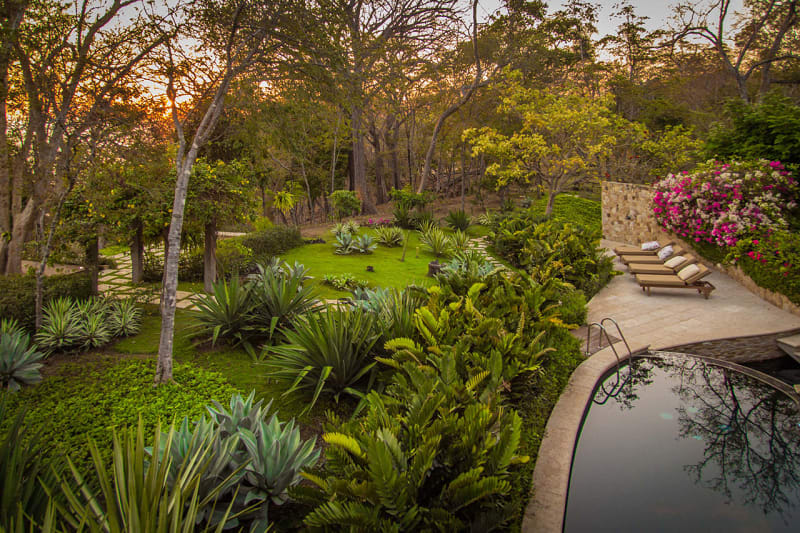 Wild Indigo: A Picture-Perfect Private Resort Villa
While all of our Costa Rica villas are beautiful, there is something special about Wild Indigo that makes it stand out as the best and most private resort on our island. Wild Indigo feels tailor-made for guests to enjoy a socially distanced vacation and get the most out of their stay.

Our most popular property, Wild Indigo is exceptionally private. You don't have to see anyone else if you don't want to! The villa is constructed with stairs that lead directly from the house to the beach, setting the property apart from the others. The sunsets are incredible—you can sit outside in the pool and grill area to watch the sun crest over the water while feeling a gentle Pacific breeze glide across your skin. Everything you could ever need is right at your fingertips in this spacious, charming abode, and you don't have to see any other guests if that's what you prefer.

Drawing inspiration from the peninsula's natural surroundings and eclectic architecture, Wild Indigo makes for the perfect couple's retreat. You might notice touches from southern Spain and Morocco as you tour through the breathtaking interior and marvel at the decor.

Embark on an excursion through a wilderness teeming with exotic birds and unparalleled panoramic views of the surrounding ocean. Enjoy nightly walks down to Prieta Beach, just a few steps away from your villa, and participate in the sumptuous beach club and its many activities. Order your meals to be delivered straight to your door. Wild Indigo provides the ultimate romantic experience, and you won't have to lift a finger as our top-notch staff takes care of everything for you. With so many natural wonders in proximity, you'll be utterly immersed in a jaw-dropping spectacle at all hours of the day. You won't ever want to leave!

Upon request, we offer in-house spa services, private chef-prepared meals, car and excursion arrangements, and so much more! Your interior also includes WiFi access, daily housekeeping, concierge service, and five bedrooms that will rival any honeymoon suite. The casita has its own king bed with a private living area, kitchenette, and terrace. This is an experience you won't ever forget. The tropical sunshine hits just right on the villa's two pools—one a wading pool and one a more substantial size. Take your meals outside and sit in the shaded sitting and dining areas to escape the heat but keep the natural paradise in view.

Wild Indigo is a spectacle unto itself with exquisite details that will keep you entranced no matter what room you're in. There is no better place to retreat, especially during this stressful time. After a few days spent in Wild Indigo, you'll leave feeling utterly refreshed and rejuvenated, as all of your worries have melted away.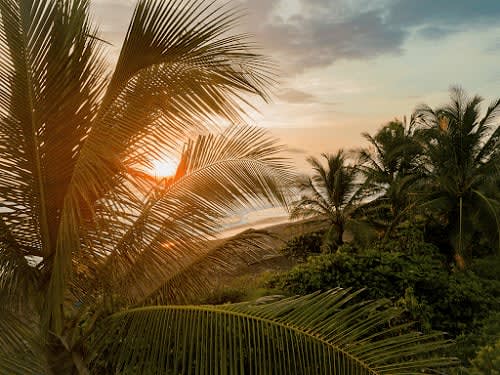 Looking for More Activities, Outings, and Vacations?
If you're looking for the ultimate coastal retreat or want to plan a trip celebrating a special occasion in Costa Rica, contact us today. We would love to book you a socially distanced stay in our Wild Indigo villa.