Apart from being the exquisite gateway to Costa Rica, Papagayo Peninsula is the perfect combination of eco-adventure and luxury accommodations. It's a fantastic place to visit with your family, especially if you're the adventure-seeking type who enjoys fun excursions, hiking trips, and spending long days at the beach. Here are just a few reasons families love vacationing in Papagayo.


The Privacy
One of the best parts about staying at the Wilder Collection is that you're guaranteed an exclusive stay in one of our beautiful, remote villas. The Wild Indigo villa is a favorite with guests because it's completely separated from the other villas.

You won't have to see anyone else if you don't want to. Steps lead directly from the door out to the pristine beach and sparkling water beyond. You and your family can revel in the ultimate exclusivity without having to interact with anyone else if that's what you choose.

It's not just the villas that offer privacy either. As Papagayo is the luxurious gateway to Costa Rica, it's not heavily trafficked, meaning secluded beaches and serene hikes await. Surrounded by lush, untouched wildlife, you can go on walks and other adventures without coming into contact with many strangers. It's a refreshing change of pace from other famous vacation spots overrun with tourists.

That's not something you'll have to worry about in Papagayo, which functions as a quiet, tranquil, breathtaking place tucked away from the rest of the world. Papagayo is an ideal location to take your family for bonding and making memories.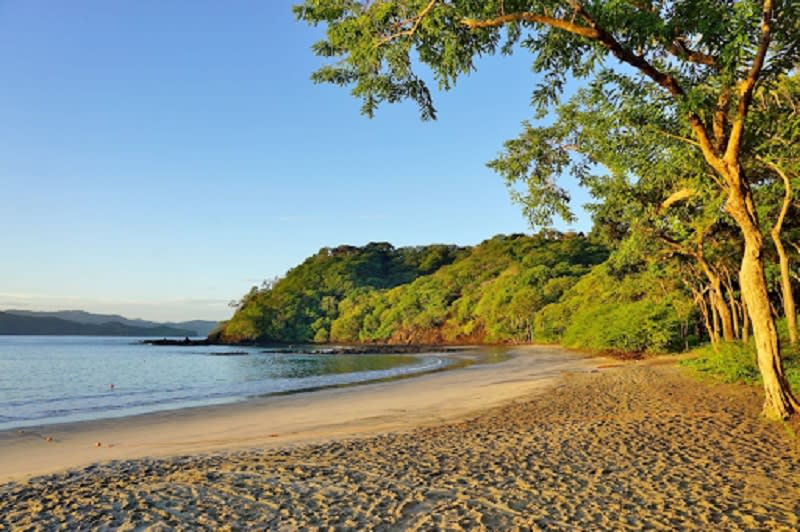 (Credit: Matador Network)
Gateway to Adventure
Papagayo offers a unique blend of nature and tourism, making it a favored destination for anyone eager to explore the jungle and nurture their adventurous side.

Families who love doing outdoor activities together, such as golfing, snorkeling, kayaking, swimming, horseback riding, and hiking, will find no shortage of things to do and sights to see while staying in Papagayo. It's the perfect place for couples, nature lovers, and families alike.

You'll be staying in a sprawling outdoor paradise with the glittering Pacific stretching out as far as the eye can see ripe for exploration. Thanks to the abundance of parks and beaches stretching out along the peninsula's golden shore, you'll never run out of areas to explore.

Whether you want to kick back and relax or take a guided tour, Papagayo provides enough variation and unique locations for everyone to enjoy. Take a day at the beach to play sand volleyball, go beach-combing, sunbathe, and boogie board. The next day you can book a planned oceanic excursion with the Papagayo Marina.
The marina is the ideal starting place for a yacht experience or a fishing charter. If you want to go on a tour, a guided hike, a private helicopter tour, or an excursion through the surrounding wilderness, all you need to do is contact our concierge.

They can arrange a myriad of in-house services for you. The Papagayo Explorer's Club is where your most epic outings will begin as they provide boundless opportunities to connect, learn, and share in discovering the peninsula with epic eco-adventures and tailored journeys.
Chance to Experience Wildlife
Anyone who enjoys birdwatching, dolphin and whale watching, or photographing wildlife will feel like they're in heaven when they visit Papagayo. Nature is in abundance, and the breathtaking outdoors are never more than a few feet away.

You never know what you're going to find, from the pristine white sand beaches to the dense forests teeming with diverse wildlife. Howler monkeys arc through the jungle canopies, with their territorial roars echoing across the landscape, hermit crabs scuttle across the dunes, iguanas sunbathe in the gardens, and the sunsets here are unparalleled.

Costa Rica is home to extraordinary, eye-popping, and vibrant wildlife and fauna––it's home to 5% of the world's total species! That means your little ones will get to experience nature in ways they never have before! Something is undeniably special about a family walk through the wildness as you check out and educate yourself on all this area has to offer. Because strict environmental laws protect Papagayo, the animals and flora have grown untamed in a protected, eco-friendly haven.

There are several fascinating wildlife sanctuaries, like the Diamante Eco Adventure Park, home to an animal sanctuary and observatory. While exploring, you'll find other government-regulated conservation areas where you can learn more about the country's array of fauna and fascinating biodiversity.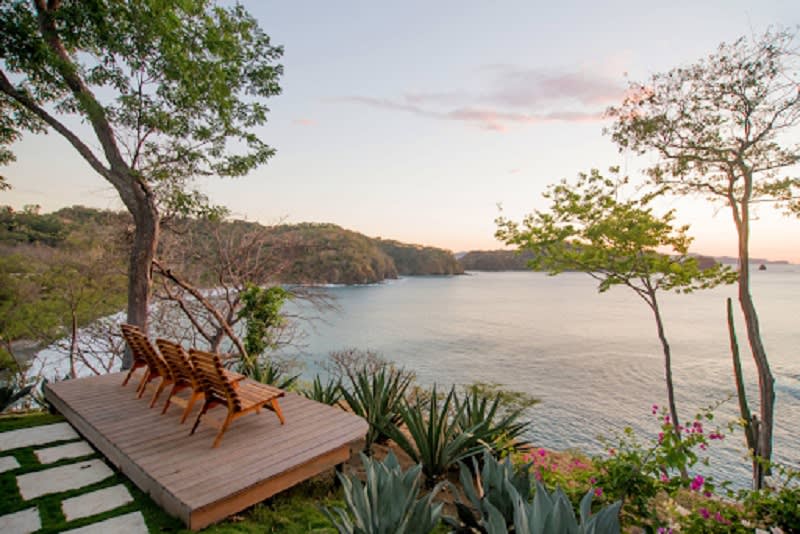 Luxury Accommodations
The great thing about Papagayo Peninsula is how it effortlessly combines ultra-luxury accommodations with a beautiful outdoor paradise.

The Wilder Collection provides guests with access to world-class golfing, surfing, fishing, and so much more! When you stay at one of our immaculate villas, you'll gain access to many of the peninsula's most luxurious features, including the Prieta Beach Club & Spa.

This recently renovated club features multiple beach-inspired culinary and cocktail venues, a two-story gym, spa, spacious event venues, an indulgent pool experience, and access to the peninsula's Explorer's Program and the Kid's Club.

The Prieta Beach Club is the ultimate hideaway in the beloved area, and you'll find lots of beach toys for the whole family to enjoy either in the pool or when you hit the beach! Golf enthusiasts will be blown away by the Arnold Palmer Signature Golf course, an 18-hole par-72 championship course designed with the ideal resort golfer in mind. It's ranked among the top 100 courses outside the United States and includes a driving range and practice area.

Then there is the Papagayo Marina, the gateway to the eastern tropical Pacific. This naturally protected harbor is a haven for anyone interested in yachting or embarking on a glorious underwater diving adventure.

This full-service deep-sea port offers more than 180 fully serviced berths for yachts and a bounty of other necessary facilities and services. Several marina outlet stores and restaurants are right next door, including a gourmet market and Dive Bar restaurant. It's a nice place to enjoy a light lunch while watching the boats on the water.

And that's not even touching on the amenities within the villas! Regardless of which Wilder Collection villa you choose to stay in, you'll receive the same degree of personalized, white-glove service attuned to your every need, including spacious suites, personal chef-grade kitchens, and in-house spa services.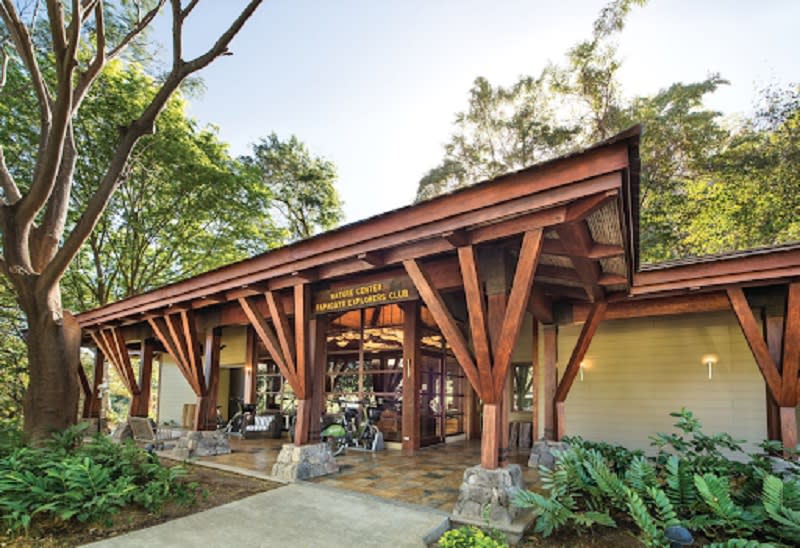 (Credit: Peninsula Papagayo)
Explorer Program
Papagayo's Explorer's Program is a one-of-a-kind experience that turns your trip from a regular vacation into a transcendent and unforgettable occurrence. If you want your family to witness an unbelievable, breathtaking adventure that they'll never forget, you might consider visiting the program. Curate a made-to-order journey to go wherever you want with whoever you want whenever you want in a once-in-a-lifetime pilgrimage through the wilds of Costa Rica.

Whether you're most interested in biking along the back roads winding in and out of forests and farmland or hitting the water for a sea odyssey that includes untamed whitewater rafting, you've got plenty of options at the club.

Kids will love Camp Jaguar, an epic special half-day camp that lets a small tribe of adventure-seeking children venture deep into the jungle while learning basic survival skills! At Camp Jaguar, your child will learn how to forage for food supplies, use ancient utensils and natural materials, and develop valuable team-building skills that will surely benefit them down the line.

For anyone interested in preserving this beautiful ecosystem, the Explorer's Program offers guided eco-adventures with teams of specialized biologists and nature lovers who champion the science and research that keeps the peninsula so untouched and lively.

And if safety is your concern, there is no need to fret. When it comes to keeping guests safe, the Explorer's Program doesn't skimp on the rules and guidelines. Along with implementing health screenings for all staff and guests, the team also uses integrated technology to create as many touchpoints as possible while requiring social distancing and limited group sizes.
Gorgeous National Parks
There are three incredible national parks right next to Papagayo Peninsula that are well worth visiting with your family. Each park has something unique about it, and all three are perfect for a day trip.

Santa Rosa National Park is close to the villas. You're less than an hour away from the park by car. Santa Rosa is famous for its biodiversity, particularly the Ridley Turtle, which partakes in a magical mating ritual on the park's beautiful beaches. Santa Rosa protects some of the last remaining tropical dry forests in the world.

Santa Rosa Park was built to protect the natural environment behind the Battle of Santa Rosa's historic site. The park inhabits ten unique natural habitats, including mangrove woodlands, savannas, marshlands, and deciduous forests. Its beaches are also beautiful and secluded, with an excellent surf swell. Witch's Rock and Ollie's Point are two of the most famous surf spots around.

Guanacaste National Park is adjacent to Santa Rosa. Together, they form a natural corridor for wildlife in the Guanacaste National Park. The most significant attractions to this park are the wildlife and the petroglyphs remaining from the pre-Columbian era. Here is a fantastic place for hikes and boat rides, as the Tempisque river runs through, and you can go rafting or on a boat tour.

The third must-visit national park is Rincón de la Vieja National Park, renowned for its ecological diversity. To the east of Guanacaste, the Rincón de la Vieja National Park encompasses over 34,000 acres, including two volcanoes, 32 rivers and streams, and an unmatched variety of flora and fauna. Enjoy the hot springs, go on a horseback ride, hike, have a picnic, or go camping in this mesmerizing natural playground.
Are You Ready to Plan Your Dream Family Vacation?
If you're looking for the ultimate coastal retreat or want to plan a family vacation to Costa Rica, contact us today. We would love to help you find the perfect Peninsula Papagayo vacation rentals for you.