Every once in a while, it's good to switch things up and try something new. The best way to keep zest and excitement alive in our relationships and lives is to spend quality time with the ones we love while doing something we've never done before—or, perhaps, going someplace we've never been. Whether you are seeking a romantic adventure or relaxation vacation, Wild Indigo is the perfect destination for your next trip. Located on Peninsula Papagayo in Guanacaste Province of Costa Rica, the newly-developed, tucked-away peninsula is out of sight but far from out of mind. The intentionally restful and restorative haven is perched on a private cliff with epic views, truly taking a page out of wildest dreams and travel magazines. Between the eclectic architecture, five-star amenities, friendly wildlife, and the healing sounds of the ocean, this exclusive getaway is bound to be a special trip that you and your loved ones will never forget.
A Spacious, Dreamy Stay
Staying at Wild Indigo means a transcendent stay in a world of color, culture, and luxury. The sophisticated, waterfront villa is massive, equipped with 5 bedrooms and 5.5 en-suite baths with the ability to sleep up to 10 adults. You and your guests will have lots of room to play, sing, and dance, between the huge central courtyard, chef-grade kitchen, and lush garden looming above jungle and bay views. The interiors are new and impeccable, boasting double-height ceilings and glass that let in the natural light. The exteriors feature outdoor hallways that connect the rooms, an elegant patio, and a private pool. The awe doesn't stop there: the astonishing estate is complete with modern amenities including a minibar, Wi-Fi, Apple TVs, and a SONOS sound system that can stream the music you love while you relax poolside or enjoy dinner on the terrace at sunset. Between soft king beds you'll sink into and expansive spaces to unwind in style, this stay will rival any other.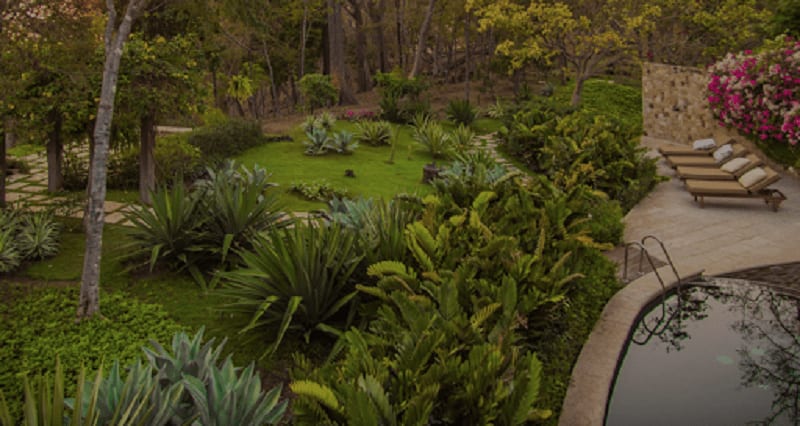 Gorgeous Greenery Great for Your Health
It is statistically proven that spending time outdoors, particularly in green spaces, is one of the quickest ways to improve your health and happiness levels. Spending a week or two away from the office and among the flowers, trees, and other foliage lowers stress, blood pressure, and heart rate. Luckily at Wild Indigo, you are surrounded by the natural splendor of the tropics right where you are staying. You can take a stroll through the palm-filled courtyard, rest on a bench or cuddle up on a chaise overlooking a picturesque tree-top and beach view, or have lunch on the terrace for a private and tranquil afternoon garden party. Not to mention, as you meander through the villa's courtyard and terraces, you might just spot monkeys playing in trees, turtles crawling along the shore, or sea animals leaping in the distance. By day and by night, you will live the "Pura Vida" way of life among the trees, the water, and the sun.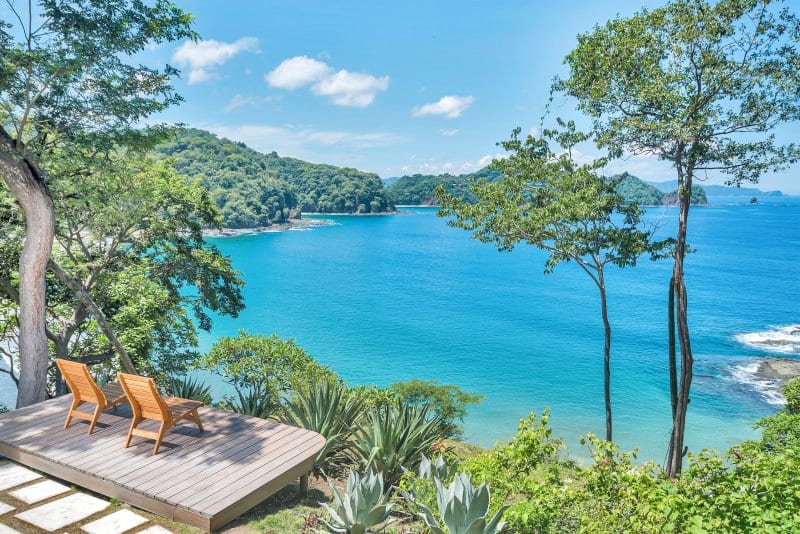 Privacy in Practice
Wild Indigo is the perfect opportunity for a truly private and personal escape. The oceanside retreat is located within Peninsula Papagayo's most secluded corner with no neighbors in sight, which only contributes to its sense of tranquility and connection to your breathtaking surroundings. In this sprawling villa, you won't have to choose between spending quality time with your favorite pairs of people or stealing secret moments away with your partner—you can do both. The rooms are suite-style, each exuding a luxury hotel feel. Four of the bedrooms are located in the main house and one is folded away in the private casita, which has its own king bed, living area, kitchenette, and terrace. You can even take the exclusive approach to your vacation a step further by hiring a local mixologist (or another local artisan or artist of sorts) for a private mixology class at the house.
The Ultimate View and Beach Beauty
Wild Indigo is the only villa on the peninsula with walking access down to Prieta Beach and its magnificent beach club. Once you've had your fill of the private pool, all it takes is a few lazy steps and your toes will be in the sand that meets the warm and beautiful blue ocean waters. You can spend your day watching the waves right from the shore itself or evenings enjoying unforgettable sunsets right from your private courtyard or on the terraces, balconies, and sun decks that your group can join together or spread out on. Soak up the coastline while sipping on your morning coffee, before or after an afternoon siesta, or late at night for a romantic touch. The best part is that you don't even have to step outside for these stunning scenes; each room features tremendous views—whether of the ocean or jungle. With the beach stretching below, your view and trip will feel infinite.
An Amazing and Romantic Aesthetic
The private stay is bound to be full of fun, but also oh-so-romantic and exotic. Loosely modeled after the architecture of Southern Spain and Morocco, this luxury home is consciously crafted and gorgeously furnished. It was designed to optimize the Pacific breezes and views with their cool breezeways and large windows. If you like to travel, you just might recognize the Moroccan mosaics and lanterns, Thai antiques, Indian textiles, and decorative doors and wall accents from all across the globe. Get lost among the calming marble, candle-lit walkways, soothing palm leaves, elegantly arched doorways, and pops of tropical color. With every expressive hue, texture, and style—from modern to vintage—this villa will take you to places like the Mediterranean, Central America, and beyond. The effortless soundscape of waves brushing the shore to lull you to sleep and coo you awake is just a bonus. Quite frankly, it's not just romantic—it's magical.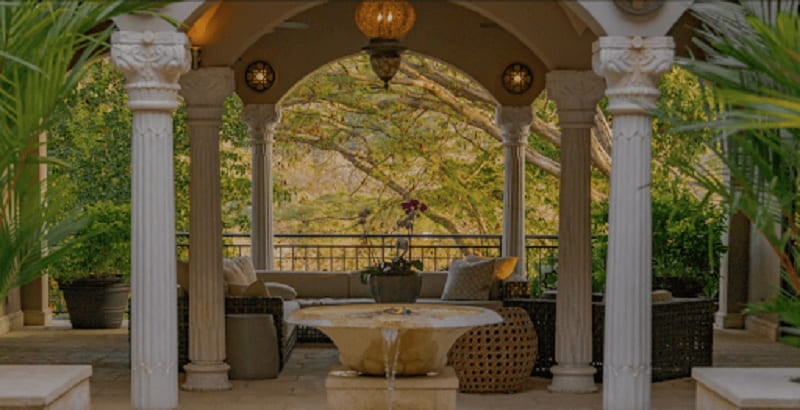 Unmatched Access and Activities
The amazing thing about Wild Indigo is that you'll always have options. You can spend your entire trip secluded in the privacy of your own villa, or you can dip your toes in the surrounding areas and activities. If you venture a little further, the Prieta Beach Club & Spa is just a stone's throw away. All guests have access to the world-class, globally-recognized Arnold Palmer Signature Golf Course and the Four Seasons Peninsula Papagayo tennis facility. Frolickers can take a stroll through Papagayo Marina and adventurers can set out an excursion with the Papagayo Explorers Club, whether it's mountain biking, hiking, or paddleboarding. If little ones are tagging along, there's the Children's Club. The good news is that you'll never feel stuck in this slice of paradise.
Experience Spectacular Service
At Wild Indigo, every stay includes daily housekeeping, beach club access, a concierge, and a breakfast chef. Each morning you can enjoy custom eggs, fresh fruit, incredible local coffee, and many more specialty menu items and ingredients. Upon request, you can elevate your stay with in-house spa services, a private chef for all meals, airport transfers, and rental car arrangements. You can even book fishing trips, boating trips, and exclusive excursions leading you to some of Guanacaste's most beautiful and natural wonders like Rincon de la Vieja Volcano National Park. The journeys are organized by knowledgeable locals that know all of the area secrets and are experts on what makes Papagayo so unique. In Costa Rica, a new experience is always calling.
Looking for More Activities, Outings, and Vacations?
If you're looking for the ultimate coastal retreat or want to plan a trip celebrating a special occasion in Costa Rica, contact us today. We would love to help you find the perfect Peninsula Papagayo vacation villa for you.